With decades of experience in the sector, PinPoint Information has been providing due diligence reports to property professionals to help them identify, understand and assess risks.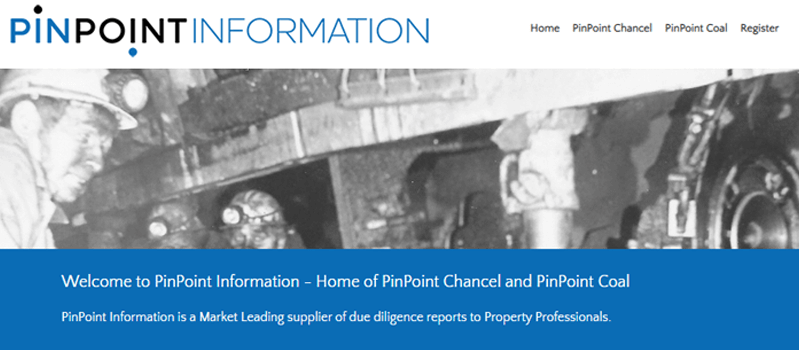 With a specialism in Mining Reports, the expert team has established its own extensive database of coal mining data and, combined with advanced risk modelling algorithms and techniques, PinPoint provides specialist support, consistent opinion and guidance to help clients in understanding ground-based risks.
PinPoint is uniquely placed to provide pre-processed data models, which deliver critical layers of data not currently available from other providers. The thorough reports provide insight on a range of areas, including historic mining, current and future underground mining, mining geology, current opencast mining, related subsidence claims data, and mine gas data.
With PinPoint holding source mining data in-house and using trusted algorithms to automatically calculate complex Zones of Influence; reports are delivered within minutes, using intelligent processes for accuracy and consistency, and ensuring any resulting queries can be assessed without delay, improving the overall speed of decision making.
What's more, as PinPoint is only partially reliant on third party data, annual price increases from the Coal Authority have only a limited impact on PinPoint's pricing, ensuring security of data supply and consistently swift delivery.
Product overview
PinPoint Chancel Report
The PinPoint Chancel Report is a Chancel Repair Liability Screening Report, designed to identify historical parishes where a continuing Chancel liability exists. It combines data sourced from historical parishes, national archives, tithe district and enclosures records, with expert interpretation and analysis from geographic historians and academics from the University of Portsmouth.
For added protection PinPoint Chancel includes £3 million warranty from Aviva that provides In Perpetuity cover to protect owners and lenders against Historical Data that is NOT held at the National Archive.
Regulated Coal Risk Report
The PinPoint Regulated Coal Risk Report provides a detailed assessment regarding environmental or ground stability hazards resulting from past, current or future underground or opencast mining activities. It also includes information relating to subsidence claims, mine entry points, surface hazards and mining geology that may impact on a property.
With a turnaround time of within an hour, Professional Indemnity cover of £5 million and Information Accuracy Indemnity of £100,000 per report, provided by Aviva, PinPoint Coal is reassuringly efficient.
Minerals Reports
As with the coal report, the PinPoint Minerals report provides an overview of the mining of minerals other than coal such as copper, iron, lead, tin etc; reporting on past present and future mining activities and providing both an indication of risk and an understanding of that risk.'
If you'd like to learn more about PinPoints range of products and services please call us on 0800 197 1757 or contact us online and one of our expert consultants will be in touch shortly.